Why Storyboards Photo Tiles for Walls Are Better Than Traditional Photos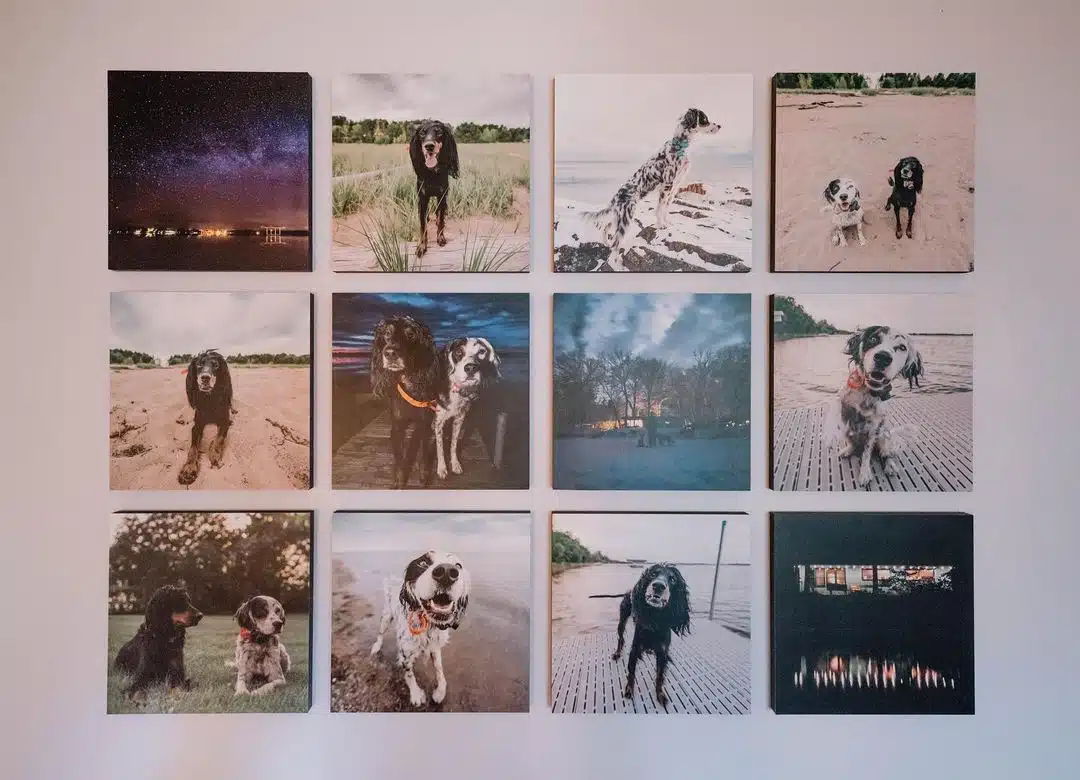 Transform your home, office or any space in a few easy steps with Storyboards photo tiles! Our adhesive tiles offer superior flexibility and customization compared to traditional photographs. Mix and match sizes, shapes and styles for an eye-catching display that meets all of your needs – plus you don't have to worry about maintenance or wear & tear like regular photos do. Not only are they the perfect solution for creating personal artwork but also make great gifts too – why not give the gift that keeps on giving? Unleash your creativity today using Storyboards' unique tile system!
Why Storyboards Photo Tiles Outshine Traditional Photos: 9 Key Advantages
Flexability
Say goodbye to boring walls! Storyboards photo tiles for walls provide the freedom for you to turn your living space into a creative masterpiece. Enjoy making endless design combinations with their mix of sizes, shapes and styles – without risking any damage when rearranging them. So why not show off those special memories in style?
Durability
You'll be set with Storyboards! They boast durability that conventional photos can't compete with – no fading, discoloring or water damage. So don't worry about your memories being lost in the annals of time – these long-lasting beauties will keep them safe and sound for years to come.
Easy to Clean and Maintain
Storyboards photo tiles are your ideal companions for areas of the home that see a lot of foot traffic. No more worrying about dust and smudges! With just one wipe from a damp cloth, you can keep these picture-perfect beauties shining like new – perfect for kitchens or bathrooms where life happens.
Great for Gifting
Looking for the perfect, meaningful gift? Check out photo tiles! Not only are they affordable and unique – you can create a truly one-of-a kind present with custom photos, quotes and graphics that reflect your loved one's personality. Whether it's a wedding or birthday celebration — make gifting memorable moments even more special!
Versatile
Storyboards are the perfect way to liven up any space! Take a child's bedroom from dull to delightful with a playful display that reflects their personality. Or, take your conference room from drab to divine and create an elegant atmosphere for important meetings. Storyboards can transform classrooms, waiting rooms, dorms, offices – even locker rooms – into something truly special!
Creative Control
Storyboards give you the freedom to unleash your creativity! Create a unique display that features black and white or full color photos, quotes, graphics – whatever reflects the vibe of your project. Play around with layouts and designs for an amazing final product; truly something no one has ever seen before.
Cost-effective
Give your space a budget-friendly makeover with Storyboards! Stop overspending on expensive photos and frames – this unique solution gives you the same big impact for much less. Plus, it's super easy to remove or replace tiles so you can switch up the look of any room without having to lift a paintbrush (or repair anyone walls).
Personalization
Transform your space into a personal oasis with Storyboards photo tiles! Create the perfect display for any room in minutes using our intuitive design. Personalize with family photos, vacation snaps and even artworks to bring out stories that you'll want to share over and over again. Get creative – express yourself without limits!
Easy to install
Creating a stunning photo display has never been faster – or easier! Forget about nails, frames and fuss; Storyboards photo tiles are the quickest way to transform your walls. All you need is an adhesive backing, and in minutes (literally) your space will be instantly spruced up with custom art that can easily be switched out when seasonal whims strike.
Transform your dull walls into a personalized art canvas with Storyboards' photo tiles! These versatile tiles will bring life and vibrancy to any space, whether it's your home, office, or any other area in need of a stylish touch. Not only do they add pizzazz to your walls, but they also boast impressive durability and require minimal maintenance. If you're searching for the perfect gift idea, look no further! Storyboards offers visually stunning photo tiles that bring cherished memories to life in astonishingly chic ways. So why not indulge in a little splurge and buy photo tiles that will truly make a statement?