How to Make a Gallery Wall With Your Pictures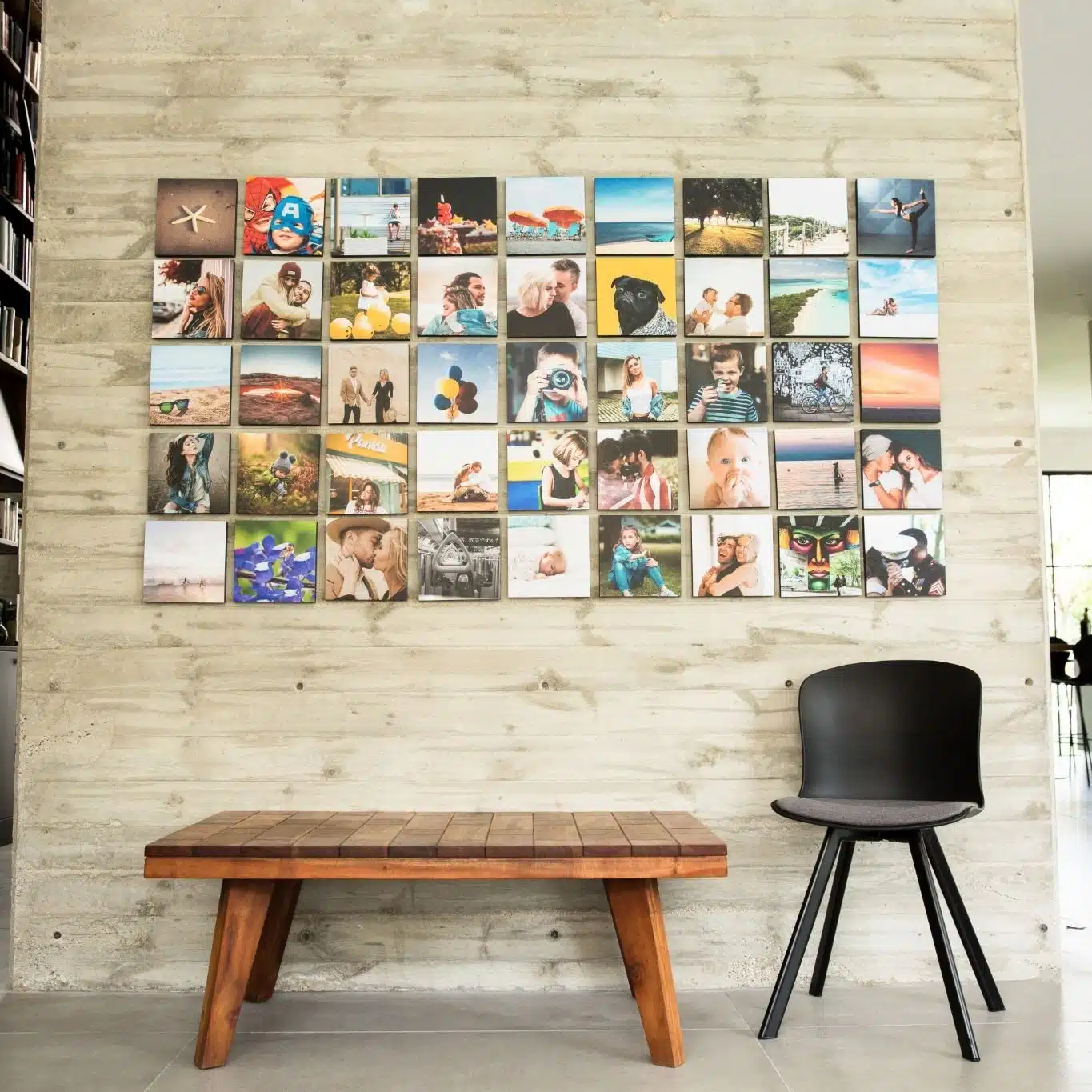 Have you ever wanted to create a beautiful photo wall and show off your favorite memories in style? With so many amazing image tile options out there, making the right choice can be daunting. Relax – we've got all the best tips on how to pick perfect picture tiles for creating an eye-catching gallery worthy of any flat or office!
15 Tips for Creating a Stunning Gallery Wall with High Quality Photo Tiles = super easy
1. Choose the best photo tiles for your gallery wall art
Stunning wall art in your home can transform a room and photos are the perfect way to add personality. But not all photo tiles were created equal! Maximize your space with quality pieces that will last for years – from stickable, framed foam boards to custom-crafted works of art made with durable materials and an extra layer of protection so you never have to worry about fading memories or damaged walls.
2. Measure your wall space
Make sure you plan ahead and take the right measurements – that'll help determine exactly what size tiles will fit perfect for creating an eye-catching masterpiece.
3. Upload your pictures
Ready to go from blank wall canvas to work of art? With Storyboards, it's easier than ever! Just upload your best shots directly from your computer, Google Drive or social media accounts and watch the magic unfold.
4. Order your stickable photo tiles
Ready to get started with your new custom tile? Avoid the delivery drama by selecting a printing vendor that offers both free shipping and precise quality control, so you can rest easy knowing it'll look exactly how you want!
5. Choose the right hanging system
Have you ever felt the urge to revamp your wall decor but don't want to be burdened with the fuss of removing nails and repainting walls? Fear not, modern photo tile display solutions have got you covered! From magnetic designs that allow effortless rearrangement, to Storyboards' adhesive stickers – ready for a quick facelift without breaking out in sweat.
6. Create a layout
Before turning your wall into a stunning photo gallery masterpiece, take some time to map out the design. That way you can rest assured that it looks perfectly balanced and put together like an art curator curated!
7. Hang your photo tiles1
Congratulations, you've completed the biggest step! Now it's time to create a work of art on your walls with those printed photo tiles. We suggest using our recommended hanging system for guaranteed success – no nails, no damage!
8. Add additional picture tiles as needed
Have unexpected gaps on your wall after creating a unique photo tile layout? Don't panic! With speedy ordering, you can ensure that all of those empty spots get filled in with style – no one will ever know they were there.
9. Protect your walls from wall damage (no nails)
With Storyboards, protecting your walls has never been easier! Their adhesive tape gives you double the protection against damage when hanging wall decor. So whether it's a canvas or photo frames, get your space ready with their innovative super-strength solution.
10. Enjoy your new photo wall art
With your finished photo wall, you're ready to make a statement! Now it's time to sit back and revel in the joy of beautiful family memories or creative displays. Adding personalization has never been easier – show off those cherished moments right on your walls with an eye-catching art piece that'll be sure turn heads!
11. Mix and match different styles and sizes
Show your wall some love and experiment with a kaleidoscope of photo tiles! Get creative by mixing up sizes, shapes, and frames – you'll be sure to create an artistic space that will have everyone in awe.
12. Use quality photo gifts for special occasions
Make someone's special day even more remarkable with a one-of-a kind gift they won't forget! Photo tiles are the perfect way to create unique and memorable gifts for any occasion, from birthdays to weddings. Give your loved ones something truly personalized that will make their big day shine brighter than ever!
13. Storyboards for a more creative touch
Storyboards offers the perfect way to showcase your creativity and originality. Unleash an eye-catching masterpiece by combining multiple photos into a single, captivating tile. Add some fun to any room with this innovative approach to decorating using images that mean something special to you!
14. Magnetic design for an easy change
If you like to give your home a fresh new look every so often, why not upgrade it with an ever-changing photo wall? Magnetic design allows for flexible re-arrangement of tiles or adding/removing elements without worrying about leaving any sticky residue – simplifying and sprucing up the process!
15. Free tiles and discounts
Shop around and take advantage of promotions or discounts from various companies to snap up free tile prints, so you can sample layouts before committing to a bigger order. Another option is getting bonus tiles when purchasing photo tiles – it's like two orders in one!
Bring your cherished memories to life with Storyboards Photo Tiles, and transform your home or office into a captivating gallery wall. Whether you want to preserve family photos that hold years of precious moments or capture new memories in time, buying photo tiles is a simple yet impactful way to infuse any space with a personal touch. Plus, we want you to be completely satisfied with your creation. That's why we offer a 100% money-back guarantee, ensuring your confidence and peace of mind. If, for any reason, you don't absolutely love the final outcome, you can request a full refund. So, don't hesitate any longer—unleash your creativity and turn your space into a masterpiece today! Buy photo tiles from Storyboards and start bringing your memories to life.