What are Stickable Photo Tiles?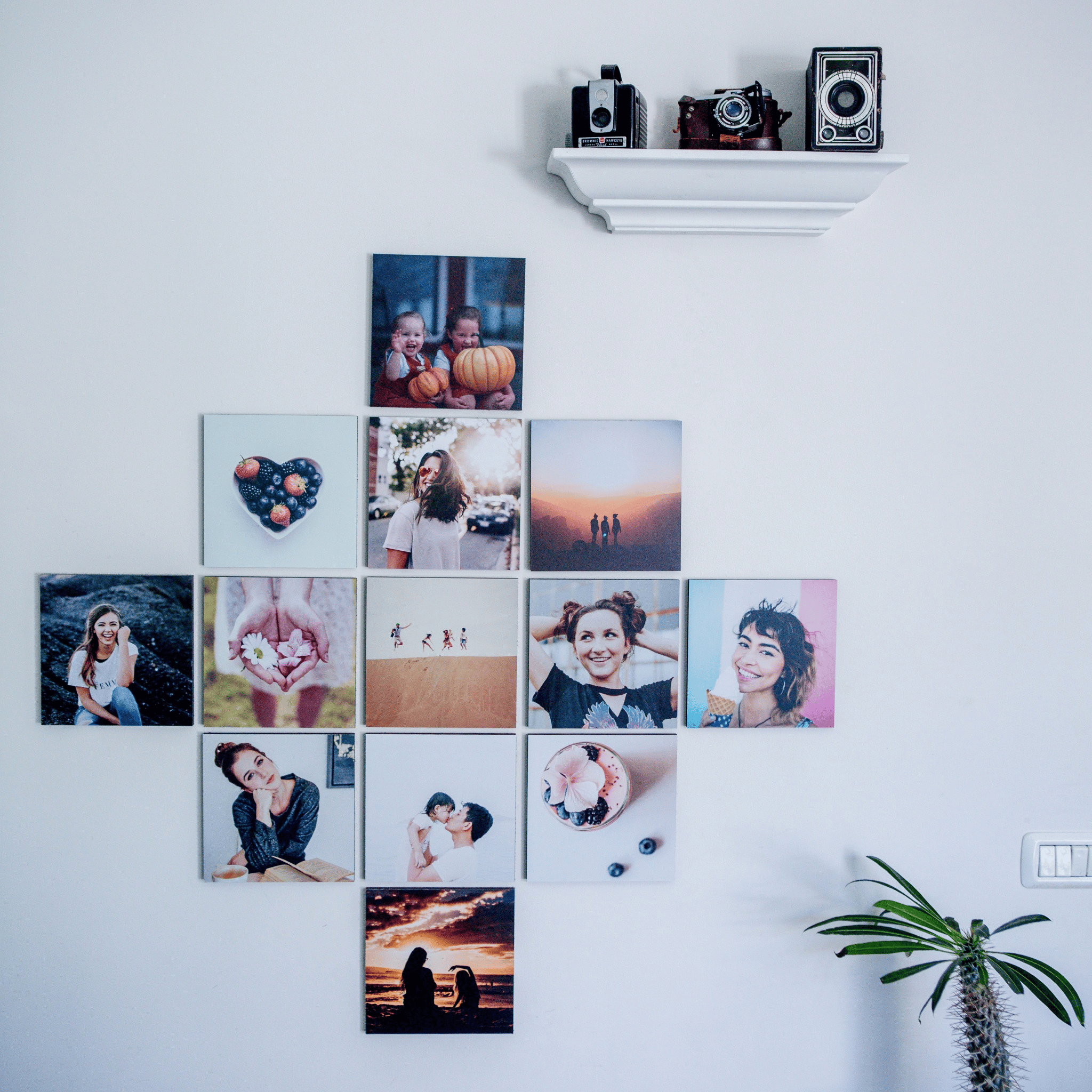 Take your wall decor to the next level with stickable photo tiles – a truly innovative way to bring all of your cherished memories and family photos together in one place. No heavy frames, no hammer & nails- just peel and stick! And don't worry if you have questions as we've got answers too. Tune into this post for an inside look at these revolutionary image displays that are quickly becoming everyone's favorite go-to gallery walls accessory.
What are stickable photo tiles?

Stickable photo tiles are the revolutionary way to create a gallery wall of special memories! Crafted with high-quality, durable materials and cleverly protected by an all-star top layer, these ingenious tiles will give your decor game a much needed facelift.

How do they work?

Transform your wall from boring to beauteous with picture tile magic! Just upload those cherished memories to Storyboards and get them shipped for free – no strings attached. Their quality control team ensures you receive top-notch tiles, allowing for an effortless installation using the included adhesive strip or magnets. Wall envy guaranteed: ready in two shakes of a lamb's tail!

How do you upload your photos?

With just a few clicks and uploads, you can create the perfect gallery wall of your most treasured memories. Get stickin' with photo tiles from today's top companies for maximum nostalgia!

Are they restickable?

Yes, many photo tile companies, such as Storyboards, use a patented adhesive strip that allows you to easily move and re-stick your tiles as needed. Re-arrange your gallery wall whenever you want without damaging your walls.

What sizes do they come in?

Stickable photo tiles come in a variety of sizes, from small 2×2 inch squares to larger 8×8 inch squares. Some companies also offer the option to mix and match different sizes of tiles to create a unique and interesting display.

Are they cheaper than other options?

Forget boring photo frames or pricey custom wall art – stickable tiles are the way to go! Plus, with bundle deals and discounts available from companies like Storyboards, you'll get unbeatably affordable ways to show off your favorite memories.

What are the benefits of stickable photo tiles?

Sick of spending a fortune on decor that quickly goes out of style? Say goodbye to wall damage and boring rooms with stickable photo tiles! They're easy to use, affordable, AND swappable when the mood strikes – plus many companies offer discounts so you can make your space look good without breaking the bank.

Can they be used in other spaces besides the wall?

Picture tiles are the perfect way to bring your ideas and creativity into any space! From boring doors, to furniture that could use some spicing up – let yourself go wild.

Do they damage walls?

Don't worry, your walls will remain unscathed! Stickable picture tiles use a unique adhesive strip or magnets that won't leave any marks- so you can have all the art and none of the mess.

Can they be used as gifts?

Gift-giving just got way more exciting! Create a unique, stickable photo tile set for the ones you love – perfect for birthdays and other special occasions like weddings or holidays. Make your gift extra personalized with pictures of their favorite memories!

Are they easy to hang?

Hanging your photo tiles just became a whole lot easier! No nails, screws or holes are necessary when it comes to sticking them on the wall. Most companies include an adhesive strip; some even have patented technology that allows you to easily re-stick and rearrange as often as you'd like – all without damaging any walls. There are literally no excuses for not creating stunning wall galleries any day of the week!

Have you ever tried jigsaw puzzling your own gallery wall? With many companies offering an easy-to-use app, it's now simpler than ever to plan out the perfect combination of tiles and styles for any space! Just upload some photos and see what they'll look like on your wall before buying – no sticky fingers required.

Sick of paying security deposits because you want to decorate? Stickable photo tiles are here! These removable wall decorations give any space a fun makeover without causing renters headache and heartache.

Upgrade your space with a stunning gallery wall of family photos, artwork, and other cherished memories that can be easily rearranged as often as you like. Buy photo tiles from Storyboards, the leading provider of stickable photo tiles, and effortlessly achieve this modern look in any home, office, or dorm room. Choose from a wide range of stylish sizes and shapes to unlock endless decorating possibilities!