Capturing Travel Memories with Photo Wall Tiles in 2023: How to Transform Your Walls
Transforming your walls into a visual journey has never been easier! With capturing travel memories with photo wall tiles, you can create a unique and personalized display of your favorite travel memories, showcasing your adventures while adding a touch of style to your home. The endless possibilities offered by photo tiles will surely capture your imagination and inspire you to bring your walls to life.
Short Summary
Transform your walls with personalized photo wall tiles to capture travel memories!
Create a stunning gallery of photos, experimenting with different layouts and types of tiles.
Easily maintain and update your display by swapping out old pictures for new ones from recent travels!
Preserving Your Travel Memories with Photo Wall Tiles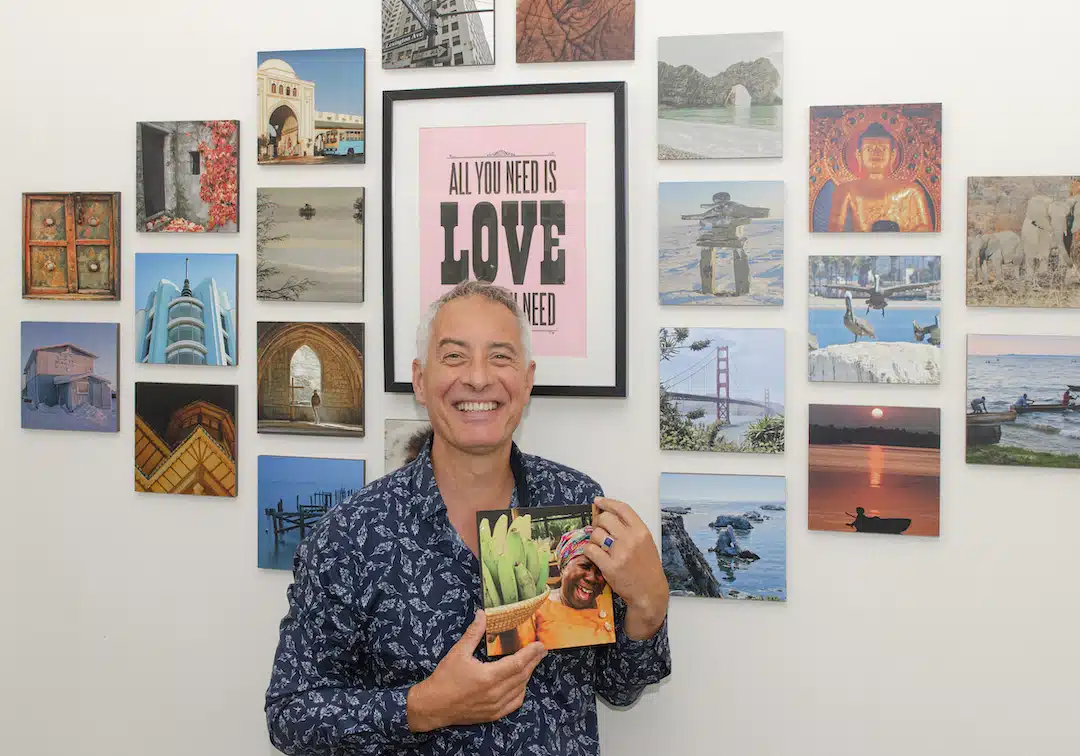 Preserving your travel memories with photo wall tiles allows you to create a unique and personalized display of your favorite moments. Photo wall tiles bring a transformation to your walls, turning them into a visual journey. These lightweight and durable tiles can be easily installed without any wall damage, offering endless creative possibilities for your home decor.
To create your custom photo tiles, simply follow these steps:
Select your favorite high-quality photos.
Use a provider like Storyboards Photo Tiles to create an amazing collection of custom wall art that tells your story and elevates your home decor.
Add borders and choose from a variety of border styles to frame your photos, bringing an exciting touch to your walls.
Choosing the Right Photos
Selecting the right photos for your beautiful photo wall is incredibly important! Here are some tips to help you choose the perfect images.
Choose high-quality images that capture the essence of your experiences and evoke emotions.
Consider the style and theme of your home decor and select photos that complement it.
Opt for high-resolution photos, typically around 300 dpi (dots per inch), to ensure your wall décor looks stunning.
By following these tips, you can create a photo wall that truly elevates the look of your space.
When choosing photos for your travel-inspired photo wall, consider the following:
The overall theme and aesthetic of your gallery wall
The colors of the photos to ensure a visually pleasing effect
Incorporating a mix of close-ups, mid-range, and wide-angle shots to add visual interest
Close-ups bring intimate details
Mid-range shots offer important context
Wide-angle photos contribute a sense of spacious environment to your favorite memories
With these considerations, you can create a visually stunning and meaningful travel photo wall.
Organizing Your Travel Photos
Organizing your travel photos by location, theme, or color scheme can help create a cohesive and visually stunning gallery wall. Think about the overall look you want to achieve and consider the size of the wall tiles and the size of the wall, to ensure the perfect balance between your photos and the available space.
Before hanging your tiles, experiment with different layouts on the floor to get an idea of how the tiles will look on the wall. Use a ruler to measure the distance between each tile and make sure they are evenly spaced, ensuring a consistent and harmonious display.
Types of Photo Wall Tiles for Showcasing Your Travels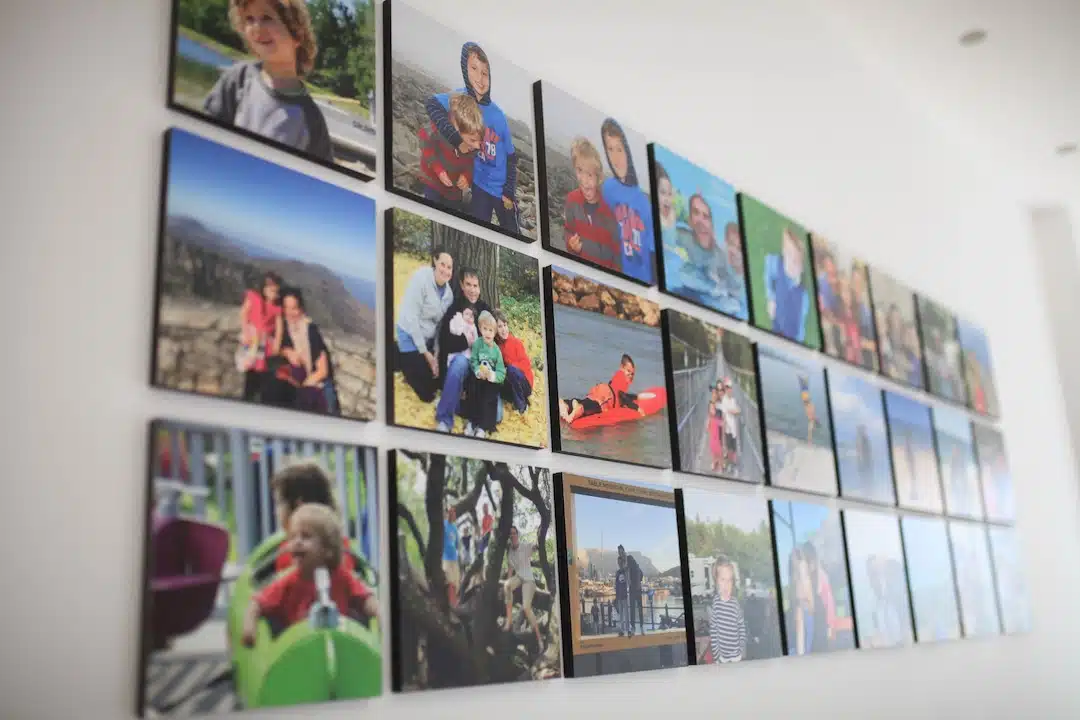 Photo tiles, also known as picture tiles, are available in various sizes, materials, and finishes, such as glossy or matte, canvas, and metallic photo tiles, allowing you to customize your display to suit your personal style and space. Most photo tiles are constructed of high-performing aluminum, while other substrates such as foam, ceramic, glass, and hardboard can also be used. Glossy and matte finishes are available, giving you the freedom to choose the look that best fits your home decor.
Top photo tile providers offer extensive customization options, including canvas, metal, and frame options to customize your chosen photos, as well as diverse design options showcasing wildlife, architecture, travel, and more. By selecting the right combination of sizes, materials, and finishes, you can create a dynamic and personalized display that captures your most cherished travel memories.
Designing Your Travel-Inspired Gallery Wall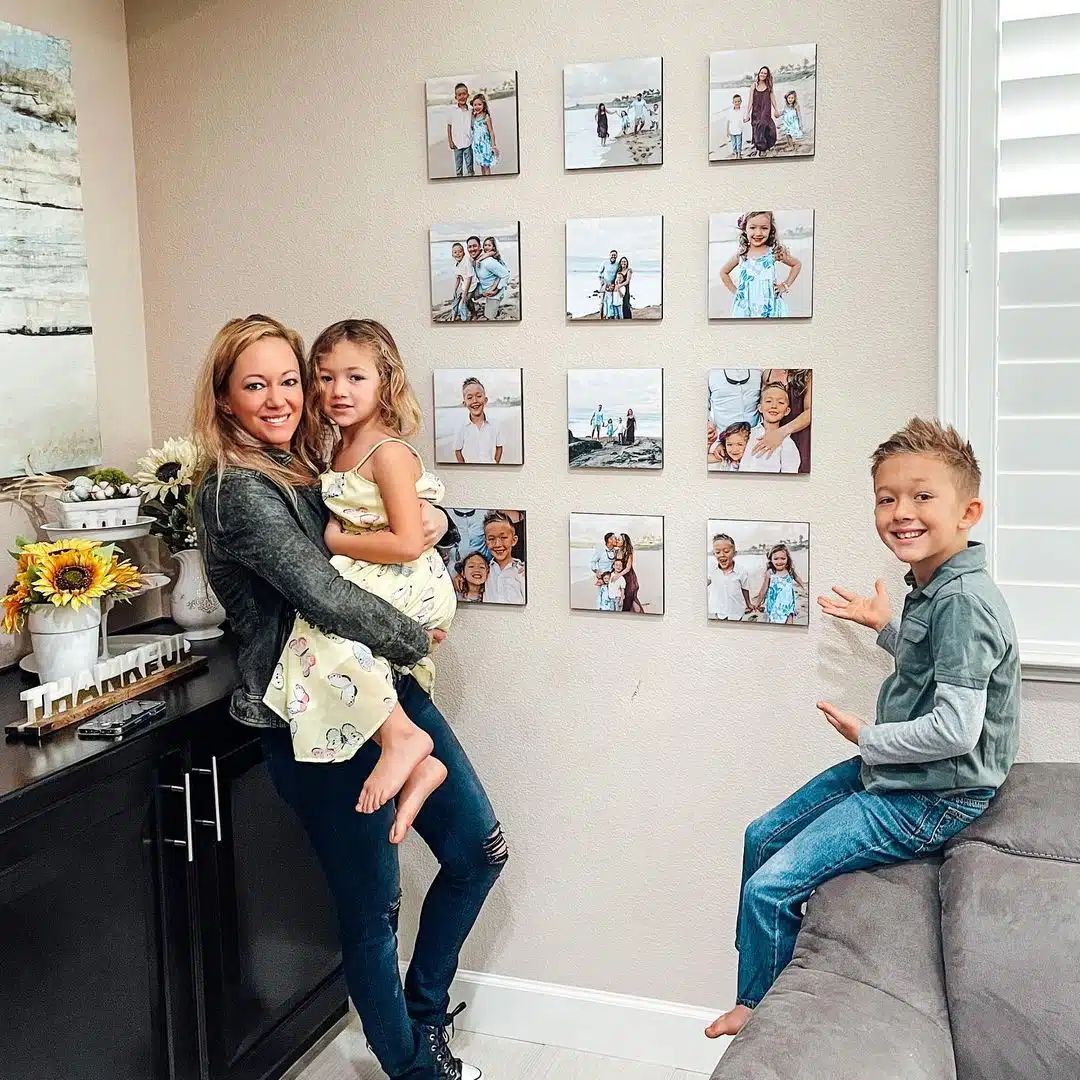 When designing your travel-inspired gallery wall, consider the principles of good design, such as balance, proportion, and harmonious harmony, to create a visually appealing and effective display. Selecting a layout that complements your space and showcases your photos effectively involves considering both grid and free-form arrangements.
Grid arrangements are a great way to create a uniform look and feel, while free-form arrangements are a great way to create a uniform look and feel.
Grid Layout
A grid layout offers a clean, symmetrical display of your travel photos, creating a visually organized gallery wall that suits modern and minimalist interiors. To create a simple grid pattern for displaying photo tiles, line them up in evenly-spaced rows and columns.
Plan your grid based on the total number of photo tiles and the dimensions of the wall space. This will make sure the display looks great. Also, it will be captivating to observe.
Free-Form Layout
The free-form layout offers a more dynamic and creative arrangement of your travel photos, incorporating various shapes, sizes, and styles for a unique and personalized display. This type of layout allows you to create a gallery wall that reflects your personal style and interests, adding visual interest and aesthetic appeal to your space, while presenting endless possibilities for customization.
To find more ideas and inspiration for a gallery wall using photo tiles, browse through our photo gallery of popular gallery wall ideas and experiment with different arrangements until you find the one that best captures your personality and travel memories. Don't forget to hang photo tiles in a way that complements your chosen arrangement.
Mixing Travel Photos with Other Wall Decor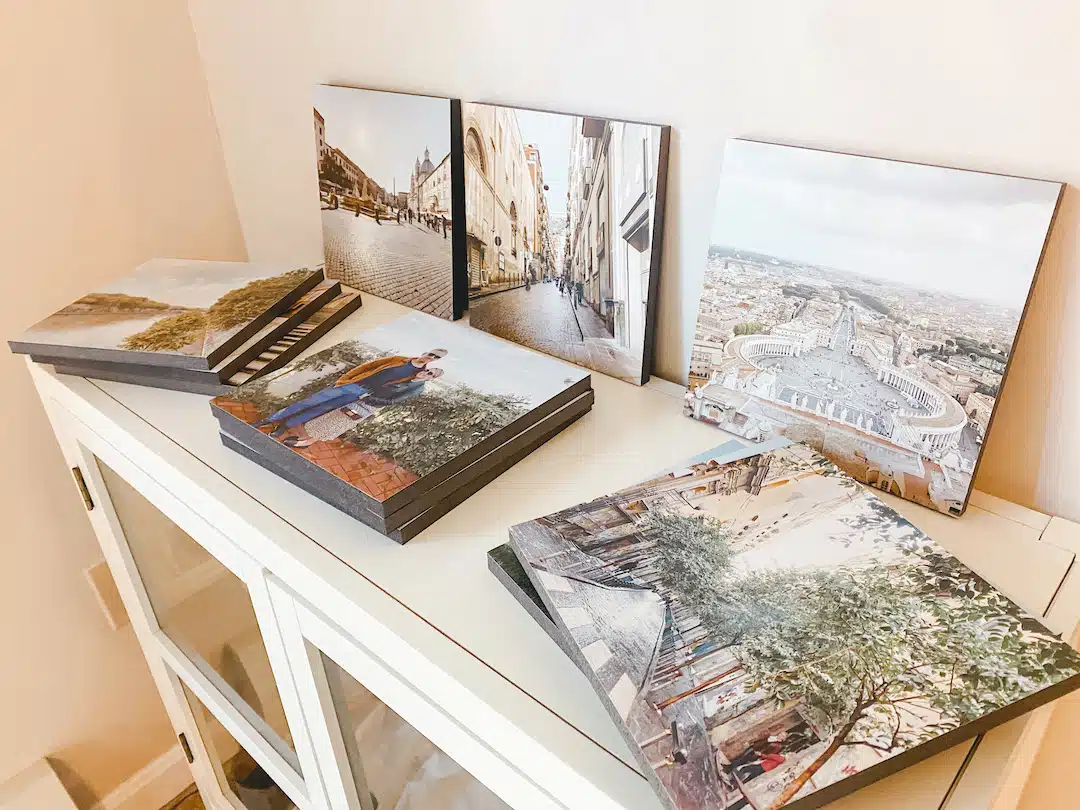 Mixing travel photos with other wall decor, such as mirrors, clocks, and artwork, can create a multidimensional and visually engaging gallery wall that reflects your personal style and interests. To create a cohesive interior with photo tiles, consider experimenting with different arrangements of tiles, such as a cascading pattern or an asymmetrical layout, and mix different sizes for a dynamic effect.
Choose items that complement your photo tiles and fit within the overall aesthetic of your space, such as:
Mirrors
Clocks
Wall sculptures
Floating shelves
Plants
String lights
By striking a balance between consistency and variety, your gallery wall will be both visually appealing and uniquely yours.
Tips for Maintaining and Updating Your Travel Photo Wall Tiles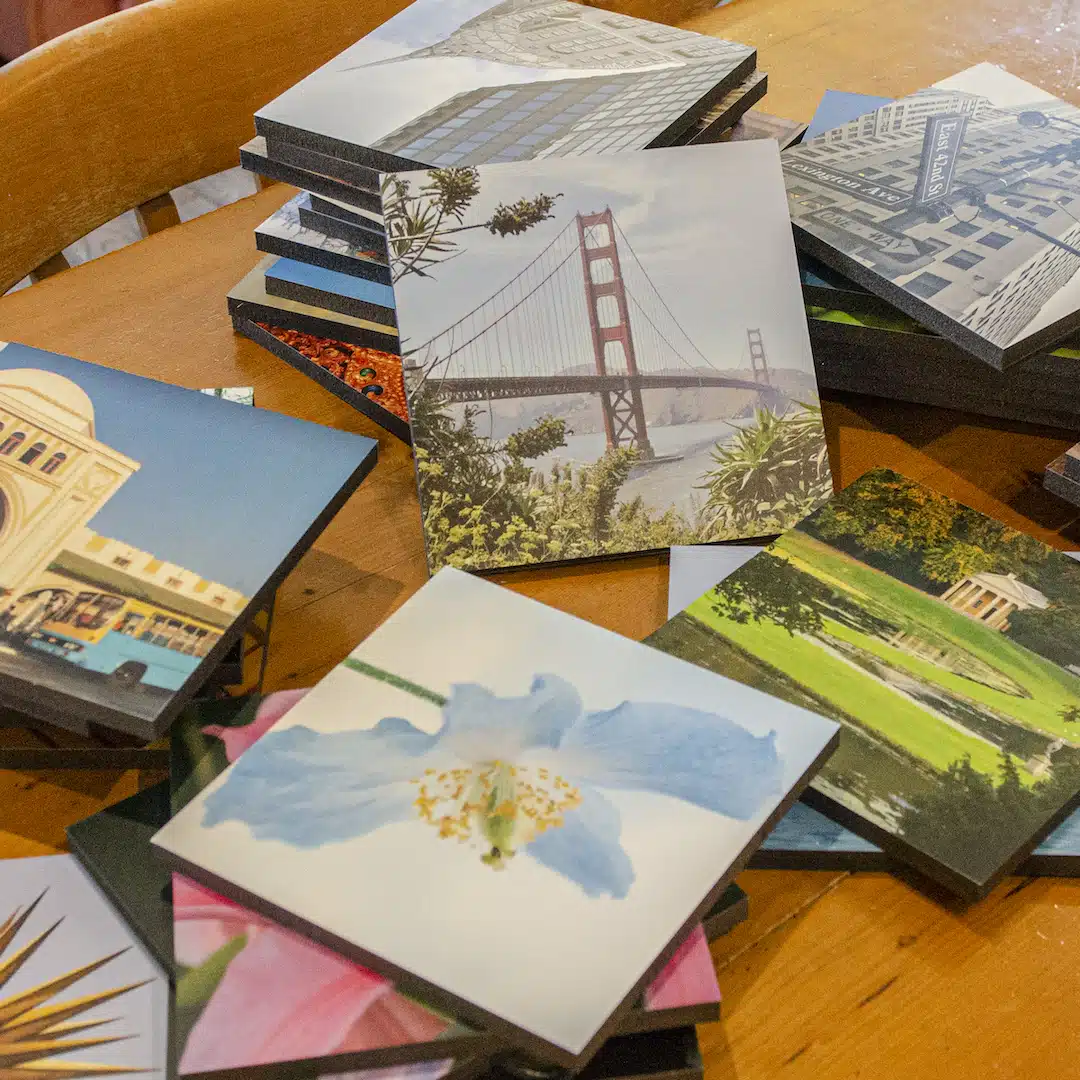 To keep your travel photo wall tiles looking their best, follow these tips:
Gently wipe them with a soft, dry cloth
Avoid using harsh cleaning chemicals or scrubbing too hard, as this could damage the photo
Most photo tiles have a removable adhesive backing, allowing you to easily remove and reposition them
Adjust your layout or swap out photos as often as you like without damaging your walls
Adding new photos to your travel photo wall tiles is a great way to keep your display fresh and current. Swap out existing photos with new ones from your latest adventures, ensuring that your gallery wall remains an ever-evolving showcase of your favorite memories.
Personalizing Photo Wall Tiles as Gifts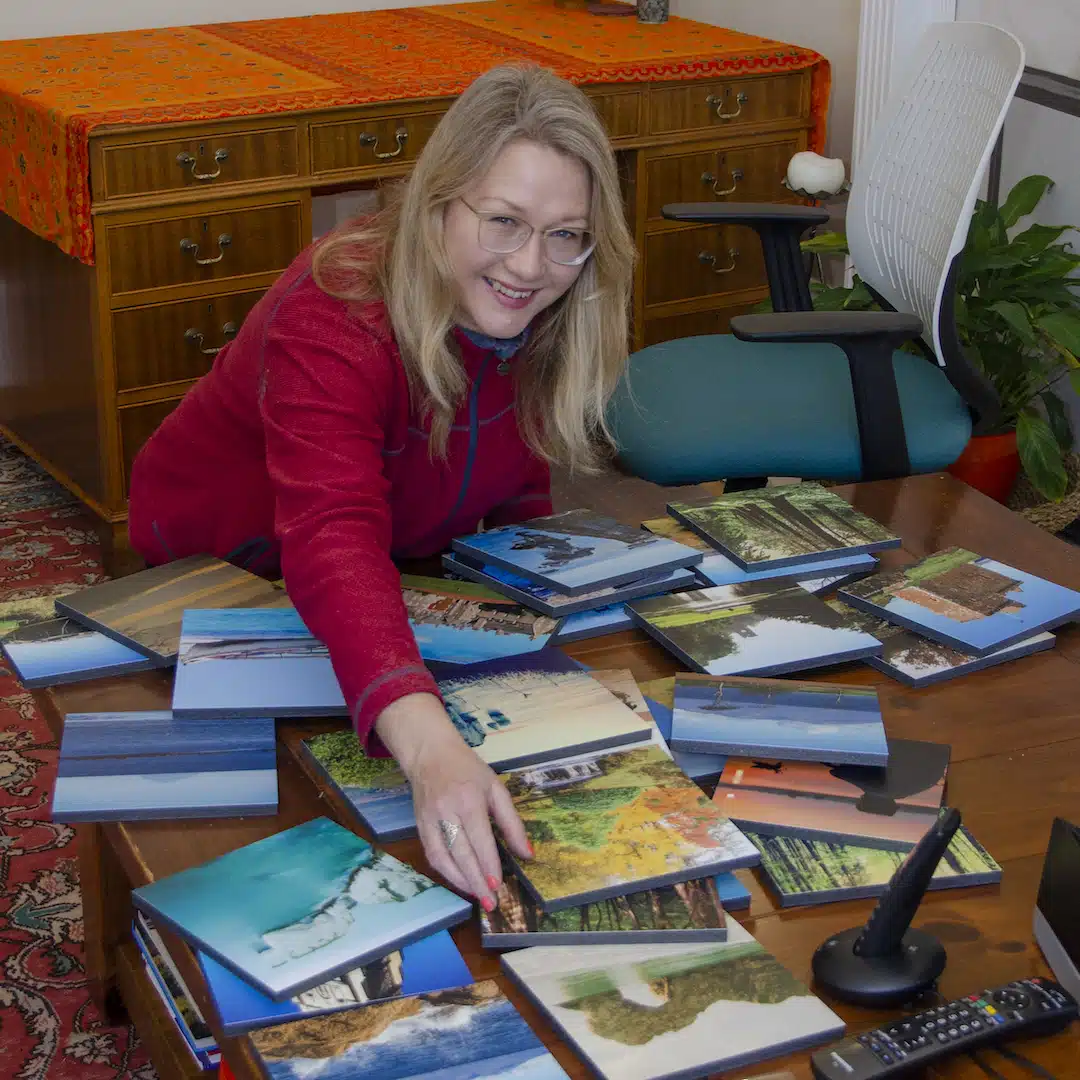 Personalizing photo wall tiles as gifts is a thoughtful and memorable way to share your favorite moments with friends and family. By adding special touches such as names, messages, or borders, you can create a meaningful and unique present that will be cherished for years to come.
Many photo tile providers offer the option to personalize your photo tiles with names and messages, making it easy to create a one-of-a-kind gift that reflects the recipient's personality and interests. Whether you're celebrating a special occasion or simply want to share a precious memory, personalized photo tiles make for an unforgettable gift that will bring joy to those who receive them.
The Top Photo Tile Provider for Capturing Travel Memories
When it comes to capturing your travel memories in photo wall tiles the best provider is:
Storyboards offers customizable options, high-quality prints, and user-friendly ordering processes.
They also offer a range of customization options, such as canvas, and metallic, as well as diverse design options showcasing wildlife, architecture, travel, and more. With their extensive selections and competitive pricing, you're sure to find the perfect photo tile provider to bring your travel memories to life.
Customer reviews are also an important factor to consider when choosing a photo tile provider, as they attest to the quality and satisfaction of their products and services. Be sure to compare pricing options from different providers to find the best value for personalized photo tiles and make the most of your gallery wall project.
Summary
In conclusion, photo wall tiles offer a fantastic way to showcase your travel memories, transforming your walls into a visual journey that reflects your unique personality and experiences. From selecting the right photos to designing the perfect layout and mixing in other wall decor, the possibilities are endless. So why wait? Start your photo tile project today and bring your travel memories to life!
Frequently Asked Questions
How do I make a travel photo gallery wall?
Creating a stunning travel photo gallery wall for your home is easy! Choose the perfect photos, pick a theme for your gallery, add art and decor to round it out and lay out your design before hanging it on your wall.
Enjoy your beautiful wall of memories!
How do you display photo tiles on the wall?
Peel the backing off the adhesive tape and press the tiles onto the wall for a beautiful display! It's easy and will have you enjoying your photos in no time.
What is the best photo tile company?
Snapfish is the best photo tile company, offering an affordable service and a lifetime guarantee!
Their easy-to-remove tiles are perfect for decorating walls in 2023.
Is Shutterfly better than Storyboards Photo Tiles?
Shutterfly and Storyboards offer comparable quality of products at similar prices, but the variety offered by Storyboards gives it the slight edge – making it a great bang for your buck!
Storyboards offers a wide range of sizes, styles, and materials, so you can find the perfect product for your needs. With Shutterfly, you are limited to a few sizes and materials, so you may not be able to find exactly what you are looking for.
What is the recommended resolution for photos to be used in photo wall tiles?
Choose high-resolution photos of 300 dpi for best results when creating photo wall tiles – it will make a huge difference!